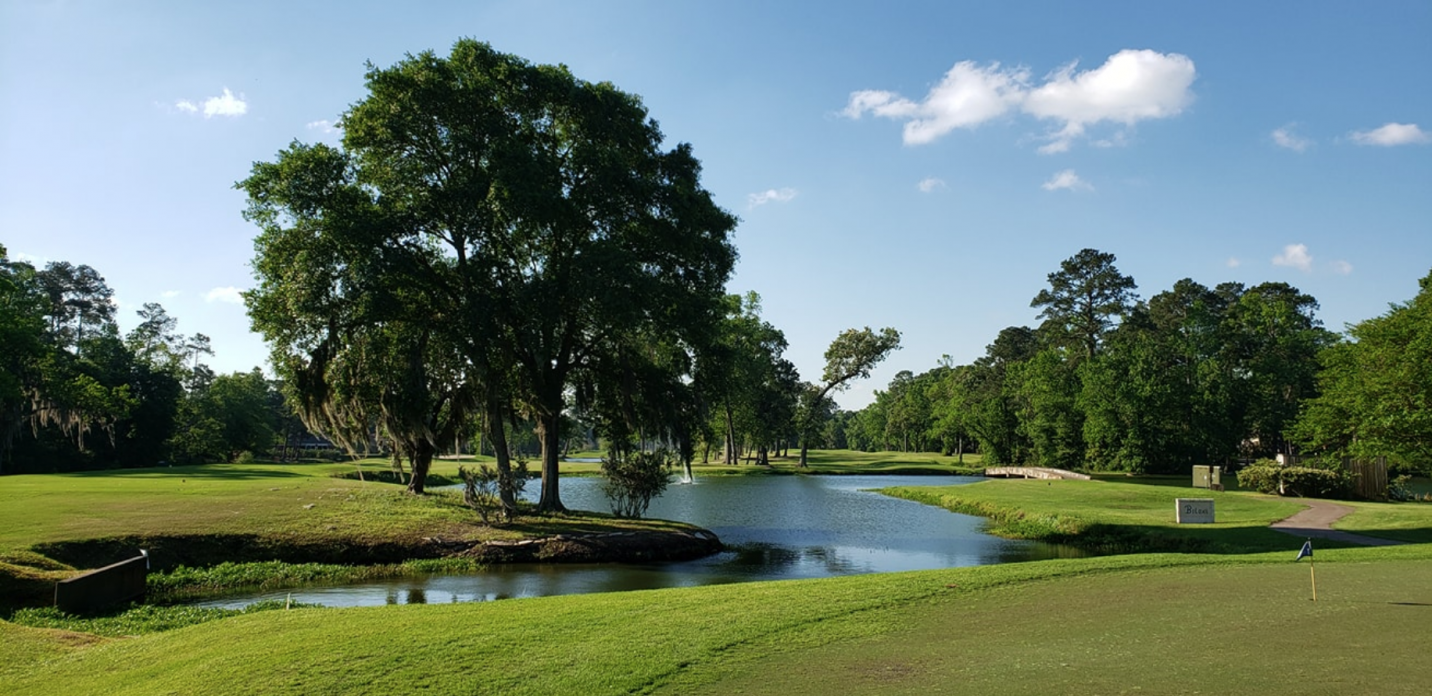 7 Reasons Houston's River Plantation Neighborhood is a Golf Course Paradise
As spring heats up and summer hovers on the horizon, we're dreaming of endless days in the great outdoors. So we're exploring River Plantation: a north Houston neighborhood gem that has been wooing golf enthusiasts and outdoor lovers for decades.

Just a few minutes south of downtown Conroe, this small wooded golf community sits quietly amid the willows and magnolias. River Plantation has long been an attractive community for those seeking a little peace and quiet without the isolation of rural living.

Check out these seven reasons why we love River Plantation!

1. Tranquil atmosphere.
Originally developed in the 1960s, River Plantation was designed as a secluded community where residents could escape into nature. Despite decades of economic growth and real estate development in Conroe, River Plantation has managed to maintain its tranquil atmosphere.

Tree abound in this wooded haven, offering shade and a sense of natural whimsy. Lakes and gazebos pepper the landscape, inviting residents to step outside and engage not only with their neighbors, but also their surroundings.

2. Tight-knit community.

Home to just 1,450 residents, the community vibe is close-knit and friendly. Designed around the River Plantation Country Club and Golf Course, the community provides multiple platforms to socialize and get to know one's neighbors, sparking lasting friendships between neighbors that can tough out any storm.

Case and point: When Hurricane Harvey hit Houston in the fall of 2017, water levels in the San Jacinto River hit record highs and flooded many of the homes in River Plantation. But in the face of Harvey's worst, the people of River Plantation responded with their best. Neighbors rallied in droves, organizing food and supply donations, and within hours they had a team of community members going from house to house to clean out and gut any homes impacted by the water.

3. Uniquely southern homes.
593 River Plantation Drive, $219,990 (Sold)

In the two years since Harvey, River Plantation has not only bounced back; it has flourished. Damaged homes have been repaired and rebuilt, revitalizing the stately mid-century vibe of the community's architecture and leaving the neighborhood looking better than ever. And although development has mostly ceased, one can occasionally find a lot available for a custom build.

Living in River Plantation doesn't mean sacrificing space for affordability or privacy for upscale community living. Generally ranging from $100,000 to $350,000, homes in River Plantation boast access to incredible community amenities (like the pool and tennis courts), expansive floor plans, and generous lots.

4. Upscale amenities.
Living in River Plantation is like being at an upscale summer camp year-round. From the expansive in-ground community pool to the tennis courts (and on-site Tennis Academy), this lushly landscaped neighborhood allows no room for boredom. Additionally, the River Plantation Country Club and Golf Course is always available for socializing and recreation. In fact, the golf course often hosts company tournaments, charity fundraisers, and events, drawing non-residents to the green and infusing the small-town vibe with a little big-city buzz once in a while. It's all about balance, after all.

5. Location! Location! Location!
Choosing between downtown life and rural suburbia can be a tough call, but for many folks, River Plantation offers the best of both worlds. Tucked just five miles South of downtown Conroe, this community is all spacious tranquility without the isolation or inconvenience of living outside of city limits.

To the North, downtown Conroe boasts the historic Crighton Theatre, the always-popular Houston Karting Complex, and craft breweries like B-52 Brewing Company and Southern Star Brewing Co. To the Southwest, gorgeous scenery awaits at WG State Forest, and Lone Star College – Montgomery offers leisure learning, youth programs, corporate training, and a never-ending calendar of community events.

6. Small-town eats.
Is there anything better than good ol' grill food after a long day on the green? Fortunately, the River Plantation Grill is right on the grounds of the country club and golf course, ensuring that a quick and tasty bite to eat is never far. For folks willing to venture just past the edge of River Plantation, The Whistle Stop Cafe is a must-try for southern style homemade country cooking.

As a golf course community, River Plantation works hard to preserve its natural environment and minimize the number of retail shops and restaurants immediately within its residential community, but that doesn't stop it from promoting small businesses! Vintage Food is an all-natural quality foods kitchen that sells jellies, fruit butters, and raw local honey under Texas Cottage Food Law.

7. A+ schools.
The Conroe area offers families a range of top-notch educational options, including a number of respected parochial schools and private early childhood centers. For public school, most students in River Plantation attend Conroe ISD, a 67-campus, 348 square mile school district serving over 62,000 students. Niche.com recently gave Conroe ISD an "A" rating in academics, college prep, administration, sports, clubs and activities, and diversity. One look at the district's course offerings and it's easy to see why. From special education to advanced placement and gifted and talented programs, Conroe ISD meets every student and their individual level and works not only to meet their needs, but to challenge them.

Whether your dream day includes 18 holes on the green or a splash in the pool, River Plantation offers residents the best of the best in luxury recreation. The close-knit community enables people to truly get to know their neighbors, fostering relationships stronger than the strongest of storms. For folks looking for a nature-focused haven, active recreational environment, and atmosphere of unparalleled community spirit, River Plantation may be the perfect place to start the next chapter.

Dreaming of sunny days on the green? The River Plantation golf course community is ready to welcome you "home!" And the experienced team at Keller Williams Professionals is here to help you every step of the way. Let us connect you to the perfect KW agent, introduce you to a lender, and help you find your dream home. Download our exclusive Buyer's Guide and kick-start the next exciting chapter of your life.