Woodlands Village Cochran's Crossing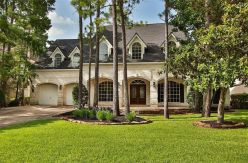 Where is Cochran's Crossing?
Cochran's Crossing is one of the original communities located in The Woodlands, Texas, on the Northside of Houston. Its closest highways are I-45, 242, 105 and the Grand Parkway toll road.
Cochran's Crossing & The Woodlands Amenities
Cochran's Crossing is served by Conroe ISD, including The Woodlands High School, McCullough Junior High School, Mitchell Intermediate School, Powell Elementary School, and Galatas Elementary School. The community is home to the Palmer Golf Course, the YMCA and The Woodlands Country Club. The Alden Bridge Sports Park, Lake Conroe, and several Lone Star College campuses are also nearby.
The Woodlands, TX to Houston, TX
Cochran's Crossing is about a 40-minute drive from downtown Houston and 15 minutes from nearby Conroe. The neighborhood is about 30 minutes from George Bush Airport and 1 hour from Hobby Airport
Homes for Sale in Cochran's Crossing
Most real estate in Cochran's Crossing was built in the mid-1980s and early 1990s. Homes range in cost from $250,000 to upwards of $1 million. There is no longer land for sale in Cochran's Crossing, although a variety of home styles, designs and price points are present in the area.
Cochran's Crossing & The Woodlands Realtors
We're experienced Woodlands Realtors, and we're here to help guide you in your local home search. Contact us today to learn more about Cochran's Crossing or to view homes listed in the area.
YOUR Woodlands Village Cochran's Crossing SPECIALIST
YOUR Woodlands Village Cochran's Crossing SPECIALIST