River Plantation Neighborhood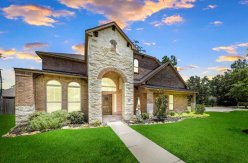 Where is River Plantation?
River Plantation is a golf course community in Conroe, Texas, located in far North Houston. Its closest highways are I-45, 242 and the Grand Parkway toll road.
River Plantation & Conroe Amenities
River Plantation is served by Conroe ISD, including Conroe High School, Peet Junior High School, and Wilkinson Elementary School. The neighborhood is home to the River Plantation Country Club and golf course, a park, a pool, and more. River Plantation residents also enjoy amenities in Conroe and nearby The Woodlands, including The Woodlands Mall, Lake Conroe, and Splashtown water park.
Conroe, TX to Houston, TX
River Plantation is about 40 minutes from downtown Houston and 10 minutes from The Woodlands. The neighborhood is about 30 minutes from George Bush Airport and an hour from Hobby Airport.
Homes for Sale in River Plantation
River Plantation was built in the 1960s and '70s and is no longer under development. Existing homes are typically 50 to 60 years old and cost anywhere from $50,000 to $350,000.
River Plantation & Conroe Realtors
As experienced Conroe realtors, we're here to help guide you in your local North Houston home search. Contact us today to learn more about River Plantation or to view homes listed in the area.
YOUR River Plantation Neighborhood SPECIALIST
YOUR River Plantation Neighborhood SPECIALIST