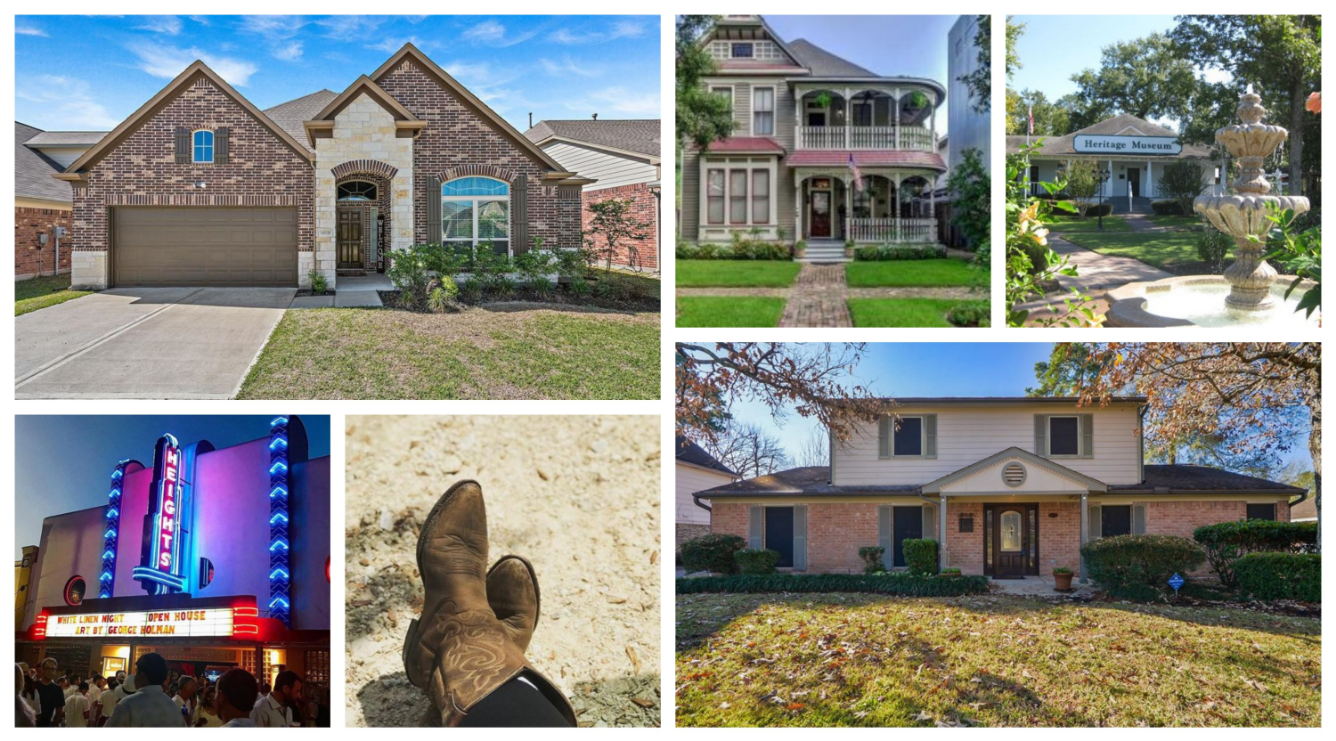 Timeless Living: 5 Classic Neighborhoods North of Houston
Made up of over ten counties and spreading over 50 miles in each direction, our beloved "Space City" has a rich history of growth and evolution.

But Houston wasn't always this grand, sprawling metropolis. Like a pebble in a pond, Houston has created a ripple effect of development and growth, creating a ring of newer communities around many of the area's oldest and most storied homes and neighborhoods.

But with so many of these incredible areas within short driving distance of each other, how do you choose the right one? To help folks moving to the North Houston area find their perfect community fit, we're taking a closer look at some of the oldest neighborhoods in the Houston area and just what makes each one so special.

1. Houston Heights
Neighborhood: Urban Houston
School District: Houston ISD
Dating back to the 1890s, "The Heights" (located North/ Northwest of Downtown Houston) is one of Houston's oldest planned communities. Many of the homes that make up the neighborhood today were built in the early 1900s! While many properties have been updated and remodeled, they have preserved their historic style and range from $300,000 to upwards of $1 million.

Composed of tiny subdivisions that are as diverse as the city itself, The Heights has a distinctly charming, funky vibe that boasts all the amenities of urban life and then some. Humble but trendy haunts like Big Star Bar and Porch Swing Pub have created a booming nightlife scene, and the neighborhood has been recognized by top arts and business magazines for offering "the best of the best" in arts, dining, shopping, and music.
One of the neighborhood's most popular events takes place the first Saturday of August on "White Linen Night," when art lovers dress in white linen (because, spoiler, Houston summers are hot) and take the streets to celebrate art, culture, and community with free summer drinks, music and entertainment, gallery tours, and free pedicabs and rickshaws.

2. Oak Forest
Neighborhood: Northside
School District: Houston ISD

Oak Forest developers first broke ground in 1946, and nearly all of the neighborhood's earliest homes were sold to veterans returning from WWII. Some of those early homes still stand today, though many or most have been remodeled and expanded. Homes in Oak Forest are as timeless and lovely, ranging from the $200,000s to upwards of $1 million.

In terms of personality, Oak Forest can be summed up in one single story: A few years ago, 174 cars in a row "paid it forward" for their fellow caffeine addicts at an Oak Forest Starbucks. Thus is the way of "Oakies," as residents of Oak Forest call themselves. This Northside neighborhood, with its shade-giving oak trees and deeply rooted sense of community, is a place where being neighborly means more than waving over the fence.

With less through traffic than other Houston neighborhoods, Oak Forest sits just far enough outside the city to feel like a haven, but without sacrificing quick access to the action and convenience of city living. Frequently combined with the Garden Oaks neighborhood, this area of North Houston boasts a slew of unique restaurants, bars, and businesses.

3. River Plantation
Neighborhood: Conroe
School District: Conroe ISD
Developed in the '50s and '60s, River Plantation is a secluded, picturesque golf course community in Conroe. Residents enjoy access to a community sports park complete with an enormous pool, and basketball and tennis courts.

Elegant and classic, River Plantation homes are surprisingly affordable, and they don't skimp on square footage or acreage. Most homes range from the mid-$100,000s to the $300,000s and vary in style from traditional mid-century southern homes (most of which have been updated and remodeled) to charming stone cottages.

4. Inwood Forest
Neighborhood: Aldine
School District: Aldine ISD

New England Colonial, California Contemporary, English Tudor, Spanish…Inwood Forest is a study in architectural diversity, and driving through the wagon-paths-turned-paved-roads is a trip around the world. At the edge of Houston's city limits, this neighborhood sits in the sweet spot where urban and suburban intersect, and hints of its past as an agricultural community pioneered by German immigrants still linger.

Inwood Forest first broke ground in the 1960s, with major development continuing through the '70s. Close-knit but not crowded, the neighborhood still boasts available land perfect for custom builds. Residents have access to the community pool and park, as well as the Inwood Forest Disc Golf Course. Ranging from the $100,000s to the $300,000s, Inwood Forest homes are elegant and affordable.

5. Atascocita
Neighborhood: Humble
School District: Humble ISD

Developed in the 1960s, Atascocita is a constantly evolving community on the edge of Northeast Houston. Low unemployment rates, low crime rates, and high homeownership rates inspired Nerdwallet.com to rank Atascocita a Top 20 Best Places To Live In Texas in 2015, and in the years since, this Humble community has continued to live up to that ranking.

In the past 20 years, the community has experienced a population growth of over 70 percent, which in turn spurred increased business in the retail and service industries, as well as the construction of six new schools in the Humble Independent School District, which services the Atascocita area.

Homes in Atascocita (like 19602 Atascocita Pines Drive) come in a variety of styles from the distinctly mid-century to modern Southern, and prices range from $150,000 to $350,000.
Looking for your North Houston dream home? Keller Williams Professionals would love to connect you to the perfect KW agent, introduce you to a lender, and help you find your dream home. Download our exclusive Buyer's Guide and kick-start the next exciting chapter of your life.