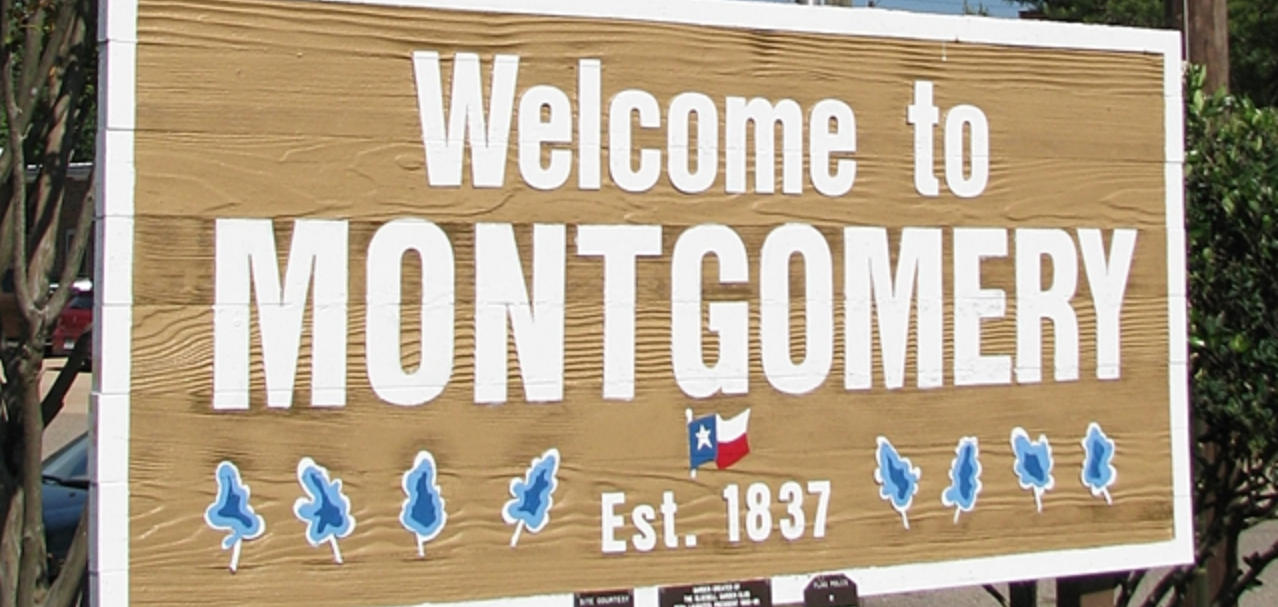 Living In Houston, TX: Top 7 Reasons To Live In Montgomery
Hailed as one of the oldest towns in the Great State of Texas (oh, yes, we capitalize every word down here) and the birthplace of the Texas Lone Star Flag, the small town of Montgomery carries on the tradition of classic Texas charm. It truly is, as they say, "deep in the heart of Texas."

Whether you're moving to Texas for the first time or simply looking to get a little further out of the city, here are a few of the countless reasons why Montgomery should be on your radar.
1. A Location With Options
Triangled between the vast expanse of the Sam Houston National Forest, Lake Conroe, and downtown Houston, Montgomery offers the best of every world when it comes to location. Nestled in between the oaks and pines, this small town achieves rural peace with a dash of suburban class. An hour away from downtown Houston and just thirty minutes north of The Woodlands, Montgomery is within an easy drive to plenty of big-city jobs and entertainment.
2. Visionary Master-Planned Communities
If master-planned community living is calling your name, Montgomery has just the thing. Take Woodforest, for example. Designed as a retreat among the trees, Woodforest is a stunning master-planned community straight out of a glossy lifestyle magazine. Woodforest's incredible resort-style amenities include a perfectly manicured 27-hole championship course at the Woodforest Golf Club, 16-acre tennis and aquatics center, and 700 acres of parks, recreational areas, and sports fields, including 13.5 miles of walking trails.

Homes in Woodforest range from $200,000 to $600,000, and most are under ten years old. Looking for a new or custom build? There is still plenty of land for sale in this wooded paradise.

3. Excellent Schools
Quality of education can be an enormous factor when deciding where to plant roots. As a Top 13 Houston Area School District, the Montgomery Independent School District offers a competitive, highly-ranked public education. Serving 8,800 students across ten campuses (six elementary schools, two junior highs, and two high schools), Montgomery ISD boasts small class sizes and an "A" rating on Niche.com for academics, as well as an "A-" for teachers, extracurriculars, and health and safety.

4. Active Retiree Living
Twenty percent of Montgomery residents are 55+, and that number is growing every day as retirees discover the perfect blend of activity and relaxation of the Montgomery lifestyle. Take Bonterra, for example, a 55+ community within the Woodforest neighborhood. This 700-home community offers residents in amenities, energy-efficient housing, and activity. In addition to complete access to Woodforest's amenities, life in Bonterra includes plenty of its own perks. Residents enjoy a 10,000 square foot clubhouse, fitness center, a massage room, a covered veranda with outdoor kitchen, a resort-style pool and hot tub, pickleball and bocce ball courts. Oh, and did we mention free front yard maintenance?

5. Affordable Housing
Montgomery tends to be a place where people put down roots, which might explain the higher-than-average homeownership rate (70%). With real estate prices ranging from $150,000 to $2 million and higher, and a median home value of $277,000 there is a dream home for every budget and lifestyle.

6. Plentiful Nature
For those who are under the impression that Texas is a vast desert land of tumbleweeds…we invite you to explore the lush landscape of Montgomery. Built on miles of wooded terrain, Montgomery is heavily populated by leafy trees and tons of natural landmarks worthy of exploration.

Case and point: Just ten minutes from downtown Montgomery, trails like the Lone Star Hiking Trail loop and cross through the gorgeous natural habitats of the Sam Houston National Forest. Fifteen minutes from downtown, the Walden Yacht Club sits on Lake Conroe, a 21,000-acre fishing and boating paradise.

7. Happy Residents
Nothing says more about a town than the residents themselves. Check out these testimonies from actual residents of Montgomery.

"The town is growing exponentially, but it still has that country charm. There's a lot of opportunity for shopping, outdoor activities, hunting, fishing."

"I love the small town atmosphere. When you go anywhere in town you are bound to run into someone you know. Even as Houston is growing and reaching further out, we still have a close knit community here. I could not have chosen a better place to live."

"You can work in The Woodlands or you can still commute to Houston by bus or toll. There are plenty of amenities and schools for the kids. This place is what you work hard for to live the American dream."

Thinking of moving to Montgomery, TX? Let us help you get started by matching you with the perfect Keller Williams Professional agent. Then, download our exclusive Buyer's Guide, and take the first steps to finding your dream home.