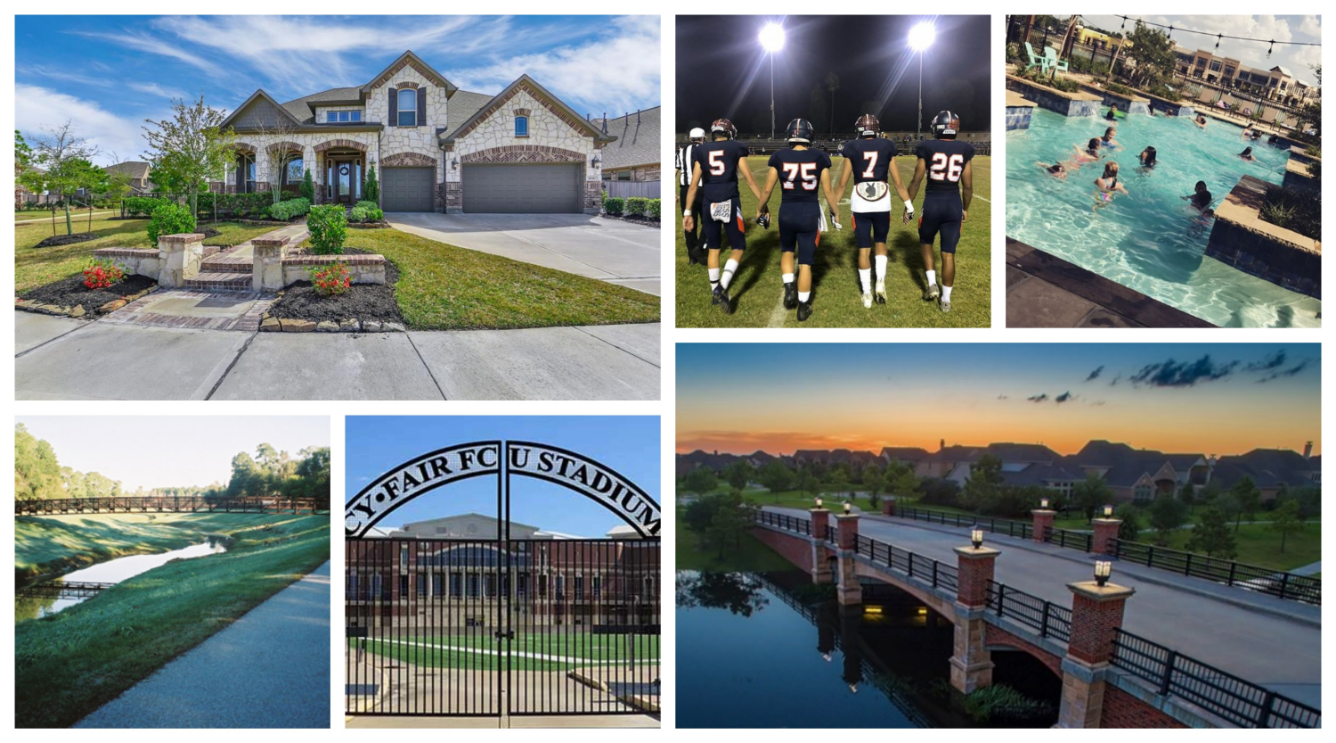 Living In Houston, TX: 8 Reasons To Fall In Love With Cypress
Just thirty minutes outside of Downtown Houston, where price tag and yard size sometimes seem to be inversely proportional, the busy city highway fades into the breath of fresh air called Cypress. Expansive properties and sprawling green grass is the backdrop for this charming community that was once a sparsely populated ranching and rice farming town.

Today Cypress is one of the most developed, booming suburbs in the state of Texas. But a strong community focus and a tight hold on its roots help this North Houston gem maintain its small-town vibe.

It's oh-so-easy to fall head over heels with this suburban paradise, so here are just a few of the many reasons to consider buying a home in Cypress!

1. Award-Winning Neighborhoods

Driving through Bridgeland is like opening the front cover of a storybook. Designed with the environment in mind, Bridgeland flawlessly incorporates flora, fauna, water, and architecture to create a master-planned community that has been wooing homebuyers since day one. In 2013, this neighborhood won the Greater Houston Builders Association "Master Planned Community Of The Year" award, followed by the 2015 Texas Association of Homebuilders "Community Of The Year" award.
16710 Ashton Main Drive $530,000

Designed by the same developer who brought us The Woodlands, Bridgeland stands on the tenants of environmental preservation and sustainability. Boasting over 3,000 acres, this community includes 900 acres of lakes, 60 miles of trails, and self-sustaining irrigation, allowing residents and wildlife to thrive side-by-side while giving life to the phrase "wide open spaces."
2. Top-Notch Education
As the fourth largest school district in the state of Texas, Cypress Fairbanks ISD (or Cy-Fair) prepares students for lifelong success. With 91 campuses and over $1.2 billion bond referendum support, Cy-Fair ISD is an academic, athletic, and extracurricular powerhouse that offers endless community engagement opportunities.

The district also boasts the Berry Center, a multi-purpose facility (complete with a sports arena, conference center, stadium, and theater) so impressive that it gives most university campuses a run for their money.

Among the thirteen high schools in the district are Bridgeland High, Cypress Creek High, and Cypress Woods High. And with plenty of private school options, as well, and Lone Star College – Cypress Center, Cypress is an attractive option for students of all ages.

3. The Real Friday Night Lights

Newsflash: Football is big in Texas. Rain or shine, Friday is football night. Whole neighborhoods pour into high school bleachers to support their hometown teams in a one-of-a-kind display of community spirit. Former Cypress ballers include Cleveland Brown right tackle Cody Risien, Atlanta Falcons tight end John Evans, and Tampa Bay Buccaneer fullback Adger Armstrong. Today, players across the Cy-Fair district maintain the schools' record of academic and athletic excellence, inspire community pride, and carry on a timeless Texas tradition.

4. Master-Planned Communities

The neighborhoods of Cypress are a perfect example of what it means to be dedicated to community building. Towne Lake, one of the town's newest master-planned subdivisions, is specifically designed to facilitate neighborliness and foster a close-knit community. From the marina and boardwalk that have attracted popular restaurants and businesses to the major grocery store sitting right in the midst of it all, Towne Lake is built for convenience, relaxation, and bumping into your neighbors.

Homes in Towne Lake range from the mid-$200,000s to upwards of $1 million, and all residents have access to the the private recreational lake (which happens to be the largest of its kind in Houston), making the classic weekend question of "What should we do tonight?" so easy to answer: boat to dinner at one of the boardwalk's waterfront restaurants, of course!

5. Ever-Growing Career Opportunities
Oil may have given Cypress its big break, but the town's industrial portfolio quickly diversified as people flocked to the areas surrounding Houston. With the breadth of the Cypress Fairbanks Independent School District, Lone Star College, and three major medical centers, healthcare and education make up a large percentage of the job industry. Construction, energy, and professional services are also growing industries and significant job sources. With its business-friendly attitude, Cypress has steadily drawn small businesses, start-ups, and established businesses looking to relocate, making it one of the most thriving professional environments outside of Houston city limits.

6. A Healthy Appreciation For Food And Wine

Nothing brings people together like good food and wine, and no event is a better example of this than the Cy-Fair Wine Fair. Year after year, the event continues to draw thousands of residents and visitors to enjoy live music, local business and vendors booths, and—of course—tons of delicious food and incredible wine. This year the Wine Fair will include 35 wine tasting tables and over 30 food tasting stations, so come hungry and ready to practice your sommelier skills! There's even a VIP Lounge for those looking for an upscale wine and dine experience.

7. A Never-Ending List Of Community Events
In Cypress, boredom is simply not an option. From the South Texas Fall Festival and Zombie Stomp 5K in October to the Corporate Challenge (a day-long corporate-themed field day competition) in April, Cypress knows how to get residents out of the house (or office) and engaging with the community.

Among our favorites is Howl-O-Ween, a free event that features a dog show, on-site adoptions, puppy yoga (and you thought goat yoga was fun!), and performances by the country's premier stunt dog team, The Canine Stars.

8. Wide Open Spaces
Whether it's hiking through 58 acres of Little Cypress Creek Preserve or booking a tee time at the Black Horse Golf Course, unlimited outdoor adventures await in Cypress. The Cypress Creek Greenway, a new trail and park system, is also in the works, and will eventually connect a pre-existing series of parks along Highway 290. The greenway will also help create natural floodplain buffer zones and wildlife habitats, thus raising the bar for environmental friendliness.

Thinking about planting some roots in Cypress? Keller Williams Professionals would love to connect you to the perfect KW agent, introduce you to a lender, and help you find your dream home. Download our exclusive Buyer's Guide and kick-start the next exciting chapter of your life.