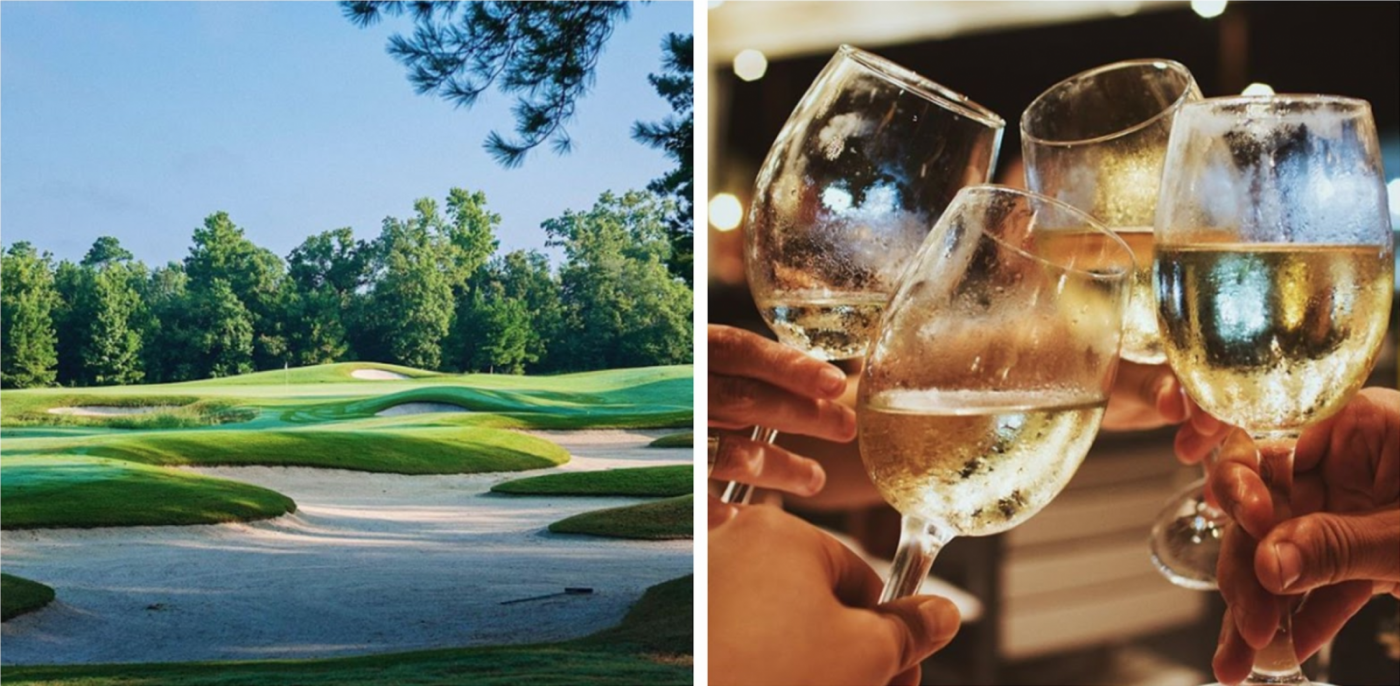 Ace In The Hole: The Best Golf Course Communities North Of Houston
Houston may be a bustling metroplex, but head north of the city limits, and it's a whole different story. Here, the landscape opens to reveal charming suburban neighborhoods, spacious green acreage, and (of course) plenty of golf courses.

Spacious, refined, and undeniably gorgeous, the golf courses north of Houston perfectly match the communities they serve.

Follow along as we tour some of the most desirable golf course communities north of Houston!

1.Woodforest
Neighborhood: Montgomery
School District: Conroe ISD

111 Knollbrook Circle, $254,999 (Sold)

Imagine a future of endless Saturdays on the green…the warm Texas sunshine kissing your face, the peaceful babble of activity at the nearby splash pad and tennis facility. Now, imagine having this outdoor paradise right outside your back door! Such is life at Woodforest, a master-planned community in Montgomery.

Tucked into 3,000 acres of wooded terrain, this master-planned community with a small-town feel was designed to suit the needs of its residents at all stages of life. Naturally, that means including a renowned golf course at the Woodforest Golf Club. In addition to the flawless links, the club offers a wealth of social activity, upscale dining options, and golf instruction.

2. River Plantation
Neighborhood: Conroe
School District: Conroe ISD

Buying a home is River Plantation is buying a ticket to gold standard golf course community living. Approximately 1,400 residents enjoy unfettered access to the community park, pool, River Plantation Golf Club, and— of course— an incredible, sprawling golf course. With endless community events and a focus on player development, River Plantation is designed to bring people together in a gorgeous outdoor setting.

Built in the mid-century and no longer under development, this established community is lushly landscaped and meticulously maintained, offering residents a full-time oasis with all the bells and whistles. Between the expansive golf center with a two-tiered driving range and instruction by top PGA and LGA teaching professionals, this community takes recreational golf to the next level. And after a long day on the green, residents can refuel and relax at the patio grill and bar or join friends for a lounge poolside. With homes ranging from $50,000 to $350,000, you can enjoy upscale living at prices that won't break the bank.

3. Woodlands Village Cochran's Crossing
Neighborhood: The Woodlands
School District: Conroe ISD

Named for its designer (Arnold Palmer himself), the undulating 27-hole Palmer Course at the Woodlands Country Club is known for being both bucolic and challenging. Whether you're a serious golfer looking for skillful competition or just interested in a fun day on the green, the Palmer Course offers something for everyone. And when they're not sinking the holes, residents can enjoy the nearby Alden Bridge Sports Park and Lake Conroe.

7 Cedar Chase, $280,000 (Sold)

Tucked between all this natural beauty sits elegant home after elegant home. While many sport the open concept floor plan that is the signature of Texas living, size and style vary from property to property. Homes in Cochran's Crossing start in the $250,000s and go up to $1 million.

4. The Woodlands Creekside
Neighborhood: Tomball
School District: Tomball ISD

111 Birch Canoe Drive, $730,000

Real estate in The Woodlands Creekside is a study in rural suburban luxury. Just look at this spacious and elegant Birch Canoe Drive home! With most homes built after 2010, modern architecture meets upscale amenities, and home prices ranging from $300,000 to $700,000.

Although technically within city limits of Tomball, The Woodlands Creekside is located about halfway between downtown Tomball and The Woodlands city center. It also sits in the center of a geographic triangle created by the outdoor havens of Burroughs Park, The Club at Carlton Woods Creekside, and the Augusta Pines Golf Club, making it a mecca of outdoor activity. The Augusta Pines Golf Club is an homage to old Texas charm, featuring gorgeous white two-story facilities with wrap-around porches. The 18-hole golf course, bar and grill, event center, and equestrian center offer members unparalleled amenities.

5. Gleannloch
Neighborhood: Spring
School District: Klein ISD

9614 Edgeloch Drive, $245,000

From starter homes to luxury estates, the homes of Gleannloch in Spring, TX are beautifully situated on acres and acres of what used to be one of the largest horse breeding farms in the country (learn more about Gleannloch Farms' history here!). Ranging from $200,000 to $1 million, most of the homes were built in the 2000s or later, and feature clean modern styles and spacious floor plans.

home in Gleannloch means never being bored again. From the recreation center to the fitness center, the equestrian facilities to the fishing lakes, endless outdoor entertainment awaits anyone looking for an active lifestyle. And then there's the Gleannloch Pines Golf Club. Buying a home in Gleannloch means never being bored again. From the recreation center to the fitness center, the equestrian facilities to the fishing lakes, endless outdoor entertainment awaits anyone looking for an active lifestyle. And then there's the Gleannloch Pines Golf Club.  With a 27-hole facility nestled into a landscape reminiscent of the famed courses in Scotland and Ireland, this golf club is the top of the top.
Dreaming of spending your every free moment on the green? Or just looking to start a new chapter of your life in a nature-filled, social environment? Keller Williams Professionals would love to help you find your perfect golf course community. Contact an agent today, download our exclusive Buyer's Guide, and take the first steps to finding your dream home.