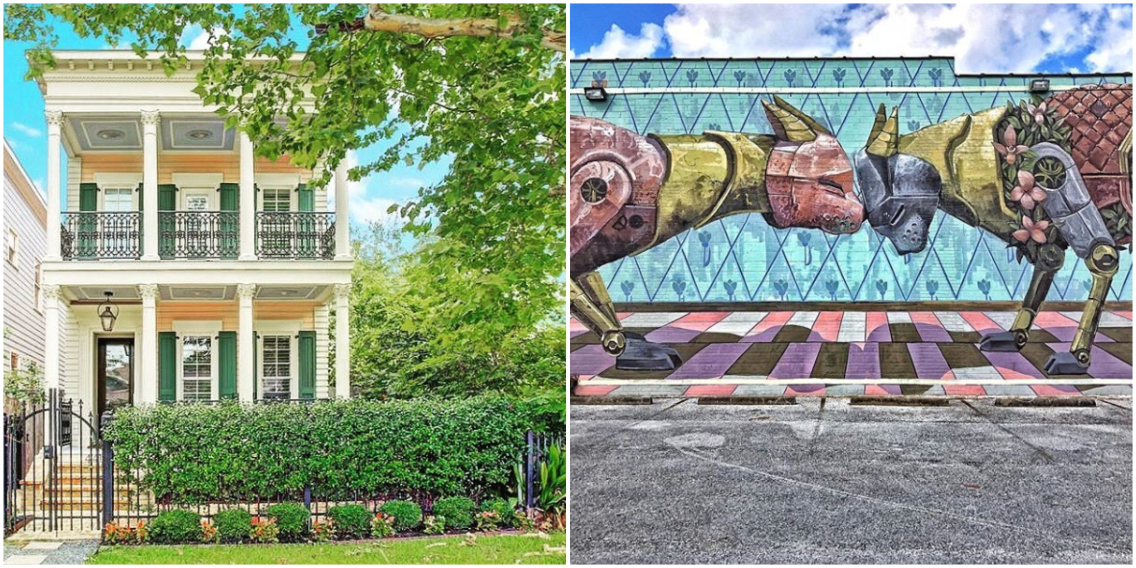 7 Best Downtowns North Of Houston
While some folks may dream of a quiet main street lined with antique shops and green parks, others may crave a downtown scene bursting with shopping, dining, and entertainment options. But you don't need to live in a big city to find a bustling downtown area. Likewise, you don't need to live out in the country to find a peaceful community.
From booming mini-metropoli to quiet village greens, the city centers north of Houston are as diverse and storied as the cities they represent. Here is a list of just a few beautiful city centers that make us swoon!
1. Towne Lake (Cypress)
School District: Cypress-Fairbanks ISD
Goodbye, neighborhood traffic! Hello, dockside parking! That's right, Towne Lake residents enjoy the perk of driving a boat into town. This gorgeous master-planned community is built around none other than the sparkling lake called…well, Towne Lake. The downtown area overlooks the lake, and all along the water, a diverse collection of waterfront shopping, dining, and wellness options invite folks to "tie up and unwind." From popular chains like Torchy's Tacos and Coco's Crepes to luxury salons and fitness studios, this impeccably landscaped neighborhood center is the perfect setting for a day out with friends, family outing, or meeting new neighbors.
2. Houston Heights (Urban North houston)
School District: Houston ISD
With its unique blend of old Southern charm and modern creative energy, the landscape of Houston Heights is one-of-a-kind and 100% swoon-worthy. Historic homes dating back to the 1800s line the residential streets, while the main strip offers a quaint escape from the big city. Thrift stores, mom-and-pop shops, small cafes, murals…all the walkability, good eats, and nightlife of the city without the traffic and the crowds. Recently, the neighborhood installed a series of eight sculptures by prominent regional artists throughout the public park areas. What better place for a picnic or early-morning walk!
3. The Woodlands
School District: Conroe ISD
This city center is definitely high on our list. Known for being one of the most upscale communities in Texas, The Woodlands is largely a residential suburb. Yet its downtown is one of the most iconic areas north of Houston. Landmarks like The Woodlands Mall and Market Street entertain residents and visitors year-round, while the office buildings showcase some of the biggest employers north of Houston (including Anadarko Petroleum, U.S. Oncology, and American Financial and Automotive Services). Winding through the downtown area is The Woodlands Waterway, which, much like the San Antonio Riverwalk, buzzes with activity from restaurants, shops, and outdoor green spaces. For romantic evenings out or just some artistic inspiration, check out the choreographed fountains that feature colored lighting and music after dark!
4. Tomball
School District: Tomball ISD
Love a small city center with historic buildings, antique shops around every corner, and shady trees? Look no further than Tomball. Residents enjoy the small-town Tomball Cinemas (with small-town tickets prices!), the Tomball Museum Center, the Tomball Depot, and the Tomball Farmer's Market. As an old railroad town dating back to the 1800s, Tomball is dotted with unique landmarks (like the antique vault) that lend the city center a fun "wild west" feel.
5. River Plantation (Conroe)
School District: Conroe ISD
River Plantation doesn't have a traditional city center, but it's so stunning that we just had to include it! Besides, we're pretty sure the classic lyric, "over the bridge and through the woods" was written specifically about this wooded haven. Charming covered bridges and streets lined with trees and flowering bushes guide residents and visitors into the River Plantation Golf Course and Club. And while this "city center" may not have the typical shops and restaurants one might expect of a small town downtown area, the golf course, inground pool, and athletic courts truly are the center of this active community.
6. Montgomery
School District: Montgomery ISD
Wear your boots and spurs to this city center, because historic downtown Montgomery is straight out of an old western film! Old-timey storefronts line Liberty Street, inviting residents and visitors in with delightful names like Rhinestone Cowgirl and Cork This! Winery. Historic buildings like the old First State Bank (now a pet store) have been beautifully repurposed to preserve the authentic feel of the city while creating trendy community hangouts like restaurants, bars, and coffee shops. Also on Liberty Street is the NH Davis Pioneer Complex and Museum, which showcases the 1800s pioneer lifestyle. History awaits around every corner in Montgomery!
7. Bridgeland (Cypress)
School District: Cypress-Fairbanks ISD
If a cute city center makes you a little weak in the knees, what will four do? Brace yourself, because Bridgeland, a master-planned community in Cypress, TX boasts four unique "village centers" brimming with luxurious amenities and lots and lots of charm. Each village boasts gorgeous parks, greenbelts, pavilions, and soccer fields that function as community spaces.
And while most of the current village centers focus on outdoor spaces, Bridgeland has impressive plans in the works to build shopping hubs in each village center. Additionally, there are plans for a main Town Center that will also include hospitals, additional schools, and even more entertainment venues.
Small-town charm or big-city vibe, historic buildings or new developments…the city centers north of Houston create a truly Texan mosaic of neighborhood and lifestyle options. There's something for everyone in our neck of the woods!

Wooed by the towns north of Houston? Keller Williams Professionals would love to connect you to the perfect KW agent, introduce you to a lender, and help you find your dream home. Download our exclusive Buyer's Guide and kick-start the next exciting chapter of your life.