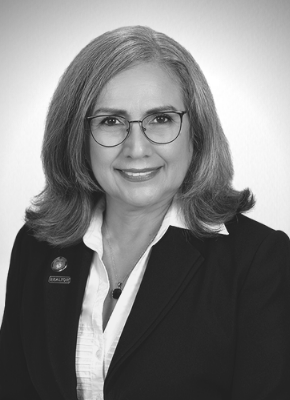 Juana Solis Almeida
Licensed Real Estate Salesperson
Agent Contact Information
language known : Spanish
Agent Detail
Areas

Specializing In

Designations

About Juana Solis Almeida
You can count on Juana to help you with your Real Estate transaction even through these uncertainties. Staying healthy and safe is important to her and she makes sure you and your family can move forward with your home dreams. She takes necessary steps to keep you and your family safe while preparing your home for sale or touring homes to buy. Gloves, shoe covers, disinfecting wipes, disinfectant and other such items are on the top of her check list.
Juana successfully negotiates for her clients through the process when selling, buying, or leasing a property. She applies her critical thinking to detail and is easy to get in touch with her. It is important for her to communicate effectively. To stay in touch throughout the process, she will communicate via text, email, phone, or your favorite APP.
Juana has been licensed for 15 years and counting. She works with homeowners in Kingwood and surrounding area that are looking to sell their properties. She initially started with first-time homebuyers and continues to advice Veterans with their real estate transactions.
'Juana was instrumental in selling my property. She advised me on mortgage lending practices and worked very well with the other Realtor representing the buyer. I may be selling another property that I own and will ask her to handle it for me.' Alfredo Flores
Juana grew up in Houston and is a 55+ year resident. She grew up in an urban subdivision known as the Heights and has also lived in Spring Branch. She also lived in Pearland and in the Kingwood, Humble, Atascocita area.
Juana served in the United States Marine Corps for eight years and understands the process for selling and buying when it comes to Veterans and their benefits. Juana encourages Veterans to attend her First Time Home Buyer's info session to learn how to get started on the process of homeownership.
If you live in the Kingwood, Humble, Atascocita area and are considering a move, she would be more than happy to represent you with your sale and/or purchase.
'Juana did an amazing job with both our home sale and a new purchase. She helped guide us through the most stressful parts of home selling/buying and went above and beyond to ensure we found our forever home. We communicated via WhatsApp which was convenient. As a husband-and-wife team, we both were able to always be on the same page in the group. If we had questions, Juana quickly responded or told us she was communicating with the Builder. Even if she hadn't received a response from the builder, she would reach out daily to give us a status update. We appreciate never being in the dark throughout the process. William H.'
ENJOY THE GREAT OUTDOORS IN NORTHEAST HOUSTON BY LAKE HOUSTON!
Juana is currently working in the following subdivisions: Summerwood, Balmoral, Stillwater on Lake Houston, Water's Edge, Walden on the Lake, Bridges on Lake Houston, The Groves, Woodland Lakes, Lakewood Pines Trails, and the villages of Kingwood.
Zip Codes: 77044, 77325, 77338, 77339, 77345, 77346, 77365, 77396, 77521, 77532, 77535
The Kingwood, Humble Atascocita area offers a fun outdoor life. This area is located northeast of downtown Houston and is about a 30-minute commute to downtown Houston. It offers fishing, boating, skiing, golfing, picnicking, walking trails, bicycling, and horseback riding.
She invites you to explore your possibilities of enjoying the great outdoors and still have access to Houston's urban lifestyle. Contact her today.